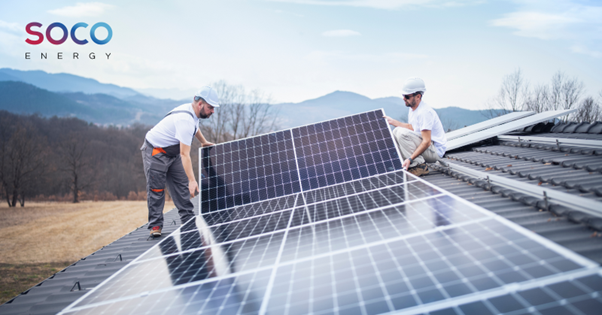 What do I need to consider when installing solar panels?
by SOCO ENERGY | March 17, 2023
Why should I install solar panels?
The products provided by solar power systems are vast, each helping us and moving us towards more self-sustainability and a healthier environment. With this self-sustainability also comes a reduced cost, whereas solar systems are also more effective in terms of the long-term expenditure of relying on them.
Finding the right solar panel installer
Engaging the services of solar system providers is also an experience where you want the best people, with the best knowledge, advising you and providing you with the products that suit your particular needs.
OnConsult (Pty) Ltd T/A Solar365, now rebranded to SOCO ENERGY, established in 2016, has a combined experience of 65 years in the business, with their professionals bringing years of experience from the engineering industry to the understanding of your solar power system needs in your office and home. When it comes to solar panel products and installation, it is not about the installation itself, but also the service and advice that goes along with it, which is very much needed in this innovative industry.
Considerations for installing solar panels
Many aspects need to be taken into account when determining what solar panel installation will be right for you, and here is also where a trusted industry professional and installer will assist.
One of the many considerations that you will be presented with, is to determine how many panels you will need. You can generally do this by comparing your previous utility usage to the wattage of each solar panel. Our specialists will gladly assist you in determining your requirements.
Another aspect that may affect your decisions around a structure that suits you, will be the hours of peak sunlight that your area receives in a day. Different areas within the same Country will receive different peak hours of sunlight, and that is something to be considered. Also, not all panels are the same, and the quality of the panel itself will also impact its energy efficiency. Further, solar panels which aim to keep the rooftop footprint tight will offer the best efficiency in this regard.
Solar panel weight and size are also another consideration. Some larger panels are less efficient than the smaller panels and depending on the space available on your roof, you will need to decide in this regard, and perhaps sacrifice efficiency.
Understanding the capacity of your roof to accommodate the weight of several panels on it must also be taken into consideration. The age and nature of your roof may be a factor as well, and the strength of the materials that it is made from, and whether it will be strong enough for the added weight.
All of this will be just as relevant as the actual angle of your roof, and whether it is positioned in an acceptable way for the sun's rays to reach it efficiently.
The installation of solar power at your home or business is not a one-size-fits-all approach. It is a very intricate procedure and requires specialist knowledge. It is not as simple as requesting the services of an electrician to assist. Additional training is required to be able to install the panels, and as such, you shouldn't attempt to install them yourself. With proper installation, service, and support, the benefits of switching will be evident in your costs, as well as in the environment.
Sunlight is clean, renewable, and an increasingly inexpensive source of energy. This compared to the fossil fuels that we predominantly still rely on, which took many years to form, and with each usage nearing its depletion, not to forget its high cost as demand has grown and the resource dwindles.
Talk to one of our solar panel advisors today to assist you in determining a solution that is best for you.